Mark D. Ryan, Ben Smyth & Guilin Wang, editors (2012) Proceedings of the 8th International Conference on Information Security Practice and Experience (ISPEC'12). LNCS 7232, Springer.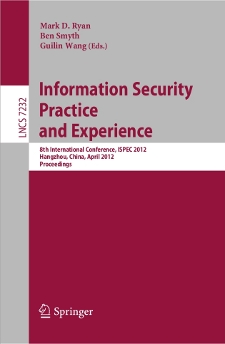 Abstract
The 8th International Conference on Information Security Practice and Experience (ISPEC 2012) was hosted by Hangzhou Normal University in Hangzhou, China between 9-12 April 2012.
The ISPEC conference series is an established forum that brings together researchers and practitioners to provide a confluence of new information security technologies, including their applications and their integration with IT systems in various vertical sectors. In previous years, ISPEC has taken place in Singapore (2005), Hangzhou, China (2006), Hong Kong, China (2007), Sydney, Australia (2008), Xi'an, China (2009), Seoul, Korea (2010), and Guangzhou, China (2011). For all sessions, as this one, the conference proceedings were published by Springer in the Lecture Notes in Computer Science series.
In total, 109 papers from 20 countries were submitted to ISPEC 2012, and 27 were selected for inclusion in the proceedings (acceptance rate 25%), including 20 full papers and 7 works-in-progress. The accepted papers cover multiple topics of information security and applied cryptography. Each submission was anonymously reviewed by at least three reviewers and the majority of papers were reviewed by four reviewers. We are grateful to the Program Committee, which was composed of more than 53 well-known security experts from 16 countries; we heartily thank them as well as all external reviewers for their time and valued contributions to the tough and time-consuming reviewing process. In addition to the paper presentations, the program also featured three invited talks and we are grateful to each speaker for accepting our invitation to participate in the conference.
There are many people who contributed to the success of ISPEC 2012. We sincerely thank the Honorary Chair, Xiuyuan Yu, and the General Chairs, Robert H. Deng and Qi Xie, for their strong support. We also thank the organizing committee -- namely, Xiumei Li, Wenhao Liu, Shengbao Wang, Xianqin Xiang, Mingrui Yu, and Zhenming Yuan -- for dealing with local issues. We are grateful to the authors from around the world for submitting and presenting their papers. We are also deeply grateful to the Program Committee members for their fair review. It would have been impossible to organize ISPEC 2012 without the hard work of all our chairs and committees. Finally, we would like to thank all the participants for their contribution to ISPEC 2012.
Bibtex Entry
@proceedings{2012-ISPEC-proceedings,
	title = "Proceedings of the 8th International Conference on Information Security Practice and Experience (ISPEC'12)",
	year = "2012",
	editor = "Mark D. Ryan and Ben Smyth and Guilin Wang",
	publisher = "Springer",
	series = "LNCS",
	volume = "7232",
}